palm removal & pruning
Regular palm trimming by one of our arborists will keep your palm trees looking healthy and tidy.  If the palm has outgrown its location you need to speak to the Tree King palm removal team; they are experts in all palm removal including Phoenix palm removal.
how often should I prune my palms?
Palm trimming should generally be carried out at least once a year, sometimes more frequently to avoid damage from dead fronds when they fall off.  Palms shed fronds naturally as they grow and is not a sign that the tree is sick or dying.
We can trim any species of palm including smooth tall Queen palms and the spikey Phoenix palm.  Our skilled arborists can scale even the tallest palms without the need for a cherry picker.
Reasons to trim palms
Frond removal for aesthetics

Frond removal for damage prevention

Increased light

Possum and rodent prevention

Seed pod removal

Husk removal
Palm removal
If trimming is not an option Tree King can remove any palm, anywhere! Using our experienced arborists and advanced lowering techniques even the most tricky palms can be removed safely without damage to surrounding vegetation or property.  Once removed we can grind the palm stump out completely so you can replant something more preferable.
We Recycle
Almost all our palms can be chipped through our specialist machines.  If we can chip it then generally there is no extra disposal cost invloved.  Unlike other companies we mix our palm mulch in with our other arborist mulch so it can go back on peoples gardens.  Palm mulch is great when mixed in with other arborist mulch and left to age.
Phoenix palm removal
Phoenix palms can be problematic in New Zealand due to their fast growth and propensity to spread by dropping seeds.
The plant is on the the list of environmentally damaging plants which means in most cases they can be removed without resource consent, regardless of size. 
Phoenix palm removal is a challenging task due to the sharp, poisonous spikes and unhygienic nests of pigeons and rats that frequently occupy the canopy. For health and safety reasons, our preferred methods of removal are either straight felling or utilising a crane or aerial lift (such as a cherry picker).
Phoenix palms are a lot easier to deal with when they are small, so if yours is in an inappropriate place we suggest you act now!
Reasons to remove Phoenix palms
Fast growing and seeds drop causing it to spread easily.

Rats and pigeons nest in canopy.

Dead fronds drop on property causing damage.

Sharp, poisonous spikes.

Pruning required annually.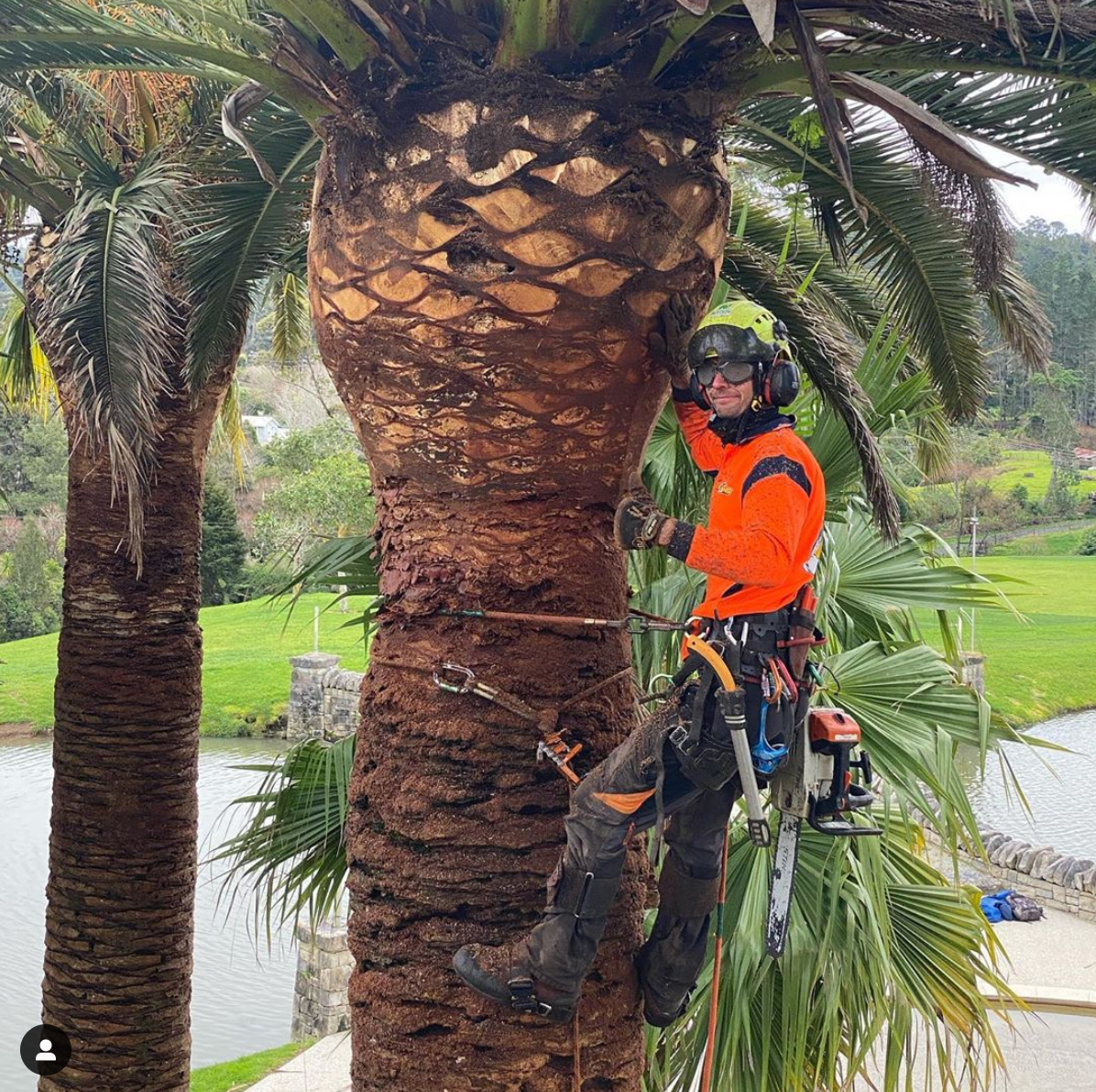 Our 100 trees program
During the months of June to September we run our annual '100 trees' promotion.  What this is, is for every tree we have to remove we will gift a free native tree that can be planted anywhere in the garden.  Then if you would like we will maintain this tree free of charge for 3 years. This is our way of giving back and supporting the sustainability of Auckland's Urban Forest..
Tree & Hedge Planting
Tree King are all about sustainability and doing what we can to care for Auckland's Urban Forest.  What better way to give back and help us with this cause than by planting a tree or hedgerow?  Our arborists can advise on what to plant, source the trees for you and then do the heavy work of planting them.  Once planted young trees need care so they can grow into large healthy specimens without the risk of having to be cut down due to poor branch structure.  Ask us about our maintenance plans and how we can help maintain these trees into the future.
Clifftop & Bank Planting
Our team of climbing arborists are also skilled at planting steep banks and cliff faces.  We use our rope skills to stay safe whilst working at height and undergoing the planting.  Benefits of planting cliffs and steep slopes is that it helps with bank stability and also limits the erosion.  It also will bring in birdlife and can create great nesting opportunities.
Subscribe to our Newsletter!
Keep up to date with the happenings here at Tree King!
We Want to Hear From You!